Well.. just wanna share with others the gift from my family...


This was a gift from mak to me... thanks mak!!! She knows how much I in love with handbangs!!!

This wallet came from Mak Ngah! So kind of her, everybody born on May got their gift. Abah dapat parfume 'Emprio Armani' sampai tak nak bukak!!! Dia kata nak simpan. just wait and see k Abah. To Mak Ngah, thanks a lot, you're the toughest women I ever know, get well soon & love you!!!
How I always complain with hubby I'm out of parfum & end up he bought me special edition parfum from Givency. It is a floral fruity juice include Chinese lantern, blackcurrant, clementine, jasmine, rose, lily of the valley, patchouli, sandalwood and amber . Dear said he loves the smell... For me is so clean, fresh, young and at the same time sexy. Can't say theres soomething very special about it, but those who like neutral scents will go perfcet.Thanks sayang...
Mak su thanks for the lovely lunch from Secret Receipe masa Sogo member sale!! Suka bangat , cuma takda camera nak amik gambar 3 of us, so curik jek gambar chicken grill ni from SR website. Me having the chicken gril but the rice replace with fries. yum yum yum. To Mak su, terima kasih banyak-banyak... love you!!!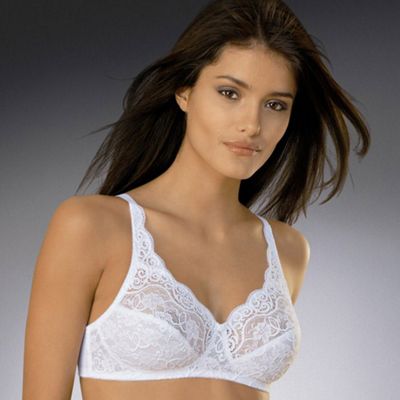 18 sx?!!!Sebenarnya hadiah from angah was a body butter from Aussie ( tak sempat take the pic ) So kenapa dengan Triump Bra ? Well bra Kak Long dia nih special edition sket & so damn expensive. I only can get the cheapest around RM 90 - 100 & it's hard to find the size. So masa Sogo member sale, we saw my size with only RM 41. The design lebih kurang macam dalam gambar. So Mak Su and Angah insist me to take it... malas nak amik sebab belum gaji lagikan, so my sis cakap " Takpa I pay 1st !! " Rerupanya its a gift from my little sis.. She don't want the money! Terima Kasih Angah, love you more than you love me... cuma kadang-kadang susah nak tunjuk sebab both of us nih keras hati & degil. What ever it is I know you know that I love you.

How I fell bless to Allah for having such a toughtfull family member....